From awnings and hanging signs, to directories and sandwich boards, signage at your office is a crucial form of visual communication with your visitors. Building or environmental signage can be used for a variety of reasons including identification (the name of your business on the door, building or office designations, awning graphics, etc), navigation (parking or access information), safety (hazardous materials, area rules, etc), or advertising (pop up signs, sandwich boards, menu boards, etc). But no matter what the use, signage is a form of communication between your brand and your visitor, and as such should be considered as carefully as you would any other marketing effort.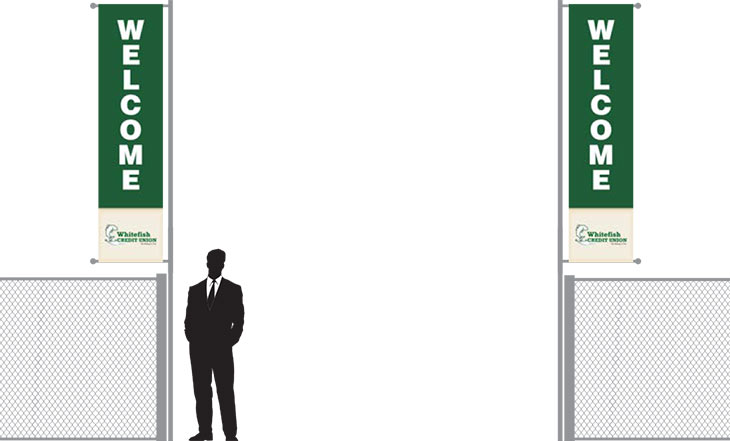 The Importance of a Sign
Before a person visits your office or retail space they have an idea in their head of what that experience may be like. This idea is created from every experience they have ever had with your brand; from the people they've spoken with, to the business card they received, to the brochure you sent them, to the website they checked out on their phone. It is a mental projection of what your brand will look like in 'real space' (and it's one of the reasons why representing your brand accurately in all of your marketing is so important!)
When a visitor comes to your office or retail space they will begin reconciling everything they thought they knew about your brand (their mental projection), with everything they see in the 'real space'. For example, if your marketing collateral always uses shades of green and a script font, but then all of your building signage has a purple background with block lettering, it will be difficult for people to reconcile this information into one cohesive idea of who you are as a business. They may wonder if they are in the right place, or if this is the same business. In a worst case scenario, the greater the amount of reconciliation that has to happen the more a person may feel misled about who you are and what you do.
In addition to being a representation of your brand, building signage is perceived as an indicator of how much you value your own business. If your signage is dull, faded, broken, crooked, misleading, incorrect, has typos, or otherwise isn't clear, you're communicating to your visitors that you don't care how you are representing yourself. It's akin to handing out a torn business card, or going to an upscale restaurant in a wrinkled t-shirt. If you do not show that you value and care for your business, your visitor will leave with the same impression.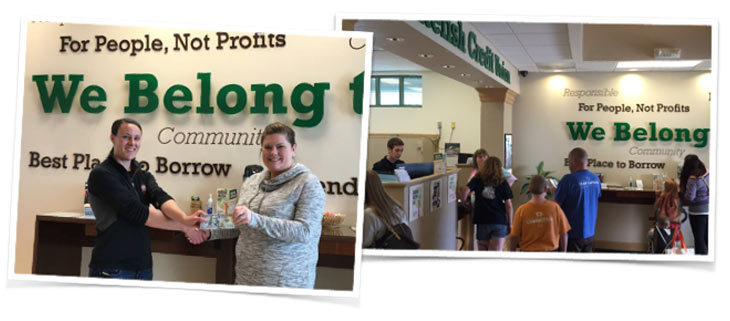 Types of Signage
Every office or retail space has it's own building signage needs, so the below list is not meant to be complete, nor is it a "to do" list of every type of sign you should have. We encourage you to reach out to us if you'd like to discuss your specific needs in more detail.
ADA Compliance – Mandated signage for compliance with local and federal regulations.
Awning Graphics – Once used primarily for weather protection, awnings have become an excellent way to advertise your business location.
Channel Lettering – Three dimensional lettering that is applied to a wall, made from a variety of materials such as glass, metal, wood or plastic.
Directional / Wayfinding Signs – Help visitors navigate confusing corridors, campuses or parking lots.
Directories – Primarily used in large office buildings with multiple offices over multiple floors.
Floor Mats / Graphics – Information adhered to the floor, from branded floor mats to advertisements.
Hanging / Projecting Signs – Signs that are mounted at a 90 degree angle away from the front face of a building, to more easily show people on the street or sidewalk the location of a business.
LED Displays – Quickly becoming a staple of any new construction. And LED display lets you update information quickly, easily, and draw a lot of attention.
Menu Boards – Used inside a restaurant to show the day's menu. These can range from a simple series of blackboards, to full color monitors.
Monument Signs – Signs that are often designed to replicate the architectural style of the building. These are often brick, stone, stucco or brick.
Neon Signs – One of the most recognized form of building signage. Everything from "Open" or "Closed", to custom shapes and colors.
Post / Panel Signs – Used to designate buildings, typically placed near a street or parking lot.
Pylon Signs – Medium to large sized free standing structures that are typically illuminated with lights.
Reception Signs – Used to create visual identity to a visitor as they approach your general waiting / reception area. Reception signs can span a wide arrange of format including acrylic signs, fabric banners, freestanding displays, engraved signs, etc.
Safety Signs – ANSI or OSHA signs to identify areas of caution or danger.
Site / Yard Signs – Used by real estate agents, or property managers. These can be small identification signs to large leasing signs.
Tactile / Braille – For compliance with regulations regarding equal access.
Theater Marquees – With or without illumination, used to provide information on a constantly rotating basis.
Traffic Signs – Used to indicate location specific traffic warnings, like cross walks or speeds.
Wall Mounted – Signs that mount flush against a building.
Window Decals – Learn more about window decals in our article, "The Versatility of Stickers and Vinyl".
Photo courtesy of Wikipedia user Anthony92931.