Presentation; just the word can strike fear into the heart of even the most experienced professional. While there are many reasons to dislike giving presentations, such as anxiety over public speaking or concern that technology may leave you hanging, adequate preparation may be the saving grace to get you through. Whether you're a battle-hardened presentation pro or a nervous newcomer, having a professionally created presentation deck at your finger tips can make the entire experience less stressful for you and more engaging for your audience.
What is a Presentation Deck?
A presentation deck is a set of pre-designed presentation slides built into a single file, most commonly in Apple Keynote or Microsoft PowerPoint software. These slides represent a wide variety of different ways you might present information for the purposes of a presentation, such as one column of text, two columns of text, a pie chart, or a bar graph. The goal of having pre-designed slides in a deck is to save you time when it comes to putting together an actual presentation. Instead of having to worry about how you are going to style a table or a bar graph, you just have to enter your content into a slide that has already been created for you. It also helps ensure your presentation stays on brand, and looks as polished as possible.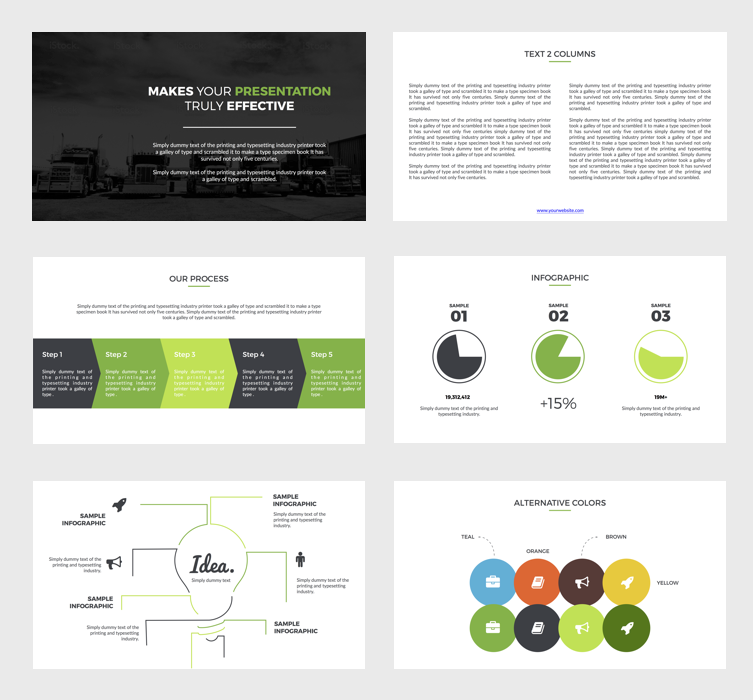 What Should be Included in Your Deck?
A presentation deck should include any type of slide that you foresee yourself using in the future. Although far from a complete list, here are the most common types of slides that we include in every one of our presentation decks:
Presentation Title
Chapter title
Section title
Text content (one, two and three columns)
Bulleted list
Single image
Single image left, content right
Single image right, content left
Two images side by side
Table
Bar graph
Column graph
Line graph
Area graph
Pie chart
Scatter plot
Staff photo, bio
Call to action
Although a well-defined presentation deck can be a hundred slides or more, your deck should be customized to the specific types of presentations and content that are unique to you or your business. If your deck only needs ten different slides, don't feel forced into creating more for the sake of quantity.
What Other Uses Does a Presentation Deck Have?
Through preparing presentation decks for a number of clients, we have discovered a broad range of uses for a presentation deck that you might not think of right off the bat! Our clients have used their presentation decks for printing marketing booklets for potential clients, putting together looping video content for displays in their trade show booths, making unique content available for download on their website, preparing digital versions of their press kits, and creating training documentation.
How Do You Prepare a Presentation Deck?
The first step to designing a presentation deck is to evaluate your previous and/or upcoming presentation needs. Every presenter (and thusly, every presentation) is unique, so your presentation deck should be set up in a fashion that best suits the needs of your content and your presentation style. Are you the type of presenter that likes to include video or audio files? Do you typically showcase tables of data? Or are your slides primarily text based? By evaluating the most common types of content that you include in presentations, you'll have a better idea of the types of slides to include in your deck.
Next, think about the types of people you will be presenting to. Are your audiences typically executives or upper management? Are they potential investors? Current customers? Your demographic should play a big role in the way you decide to present your information. An older demographic may need a larger font size, while management may want to see more tables of facts and figures. Remember that the visual portion of your presentation should be a compliment to the verbal, and should thus cater to the people in attendance.
With all of the above in mind, it's time to start designing your actual slides. The most important thing to remember during this step is that the design of your slides should be consistent and on brand. The green you use on slide one should be the same as the green on slide nine. If your photos have square corners, don't switch to rounded halfway through the deck. Ideally, use a font that is specific in your brand style guide (you have a brand style guide, right?), or choose one that compliments your brand. You can also choose to partner with a professional agency, like Grid, to handle designing these slides for you. This is often the most cost and time efficient way of preparing your presentation deck.
Using Your Presentation Deck
You've finished preparing your presentation deck just in time to be asked to present at your next networking event – fortunate timing! So how do you use this presentation deck to save yourself some time and hassle? The first step in preparing any presentation (with or without a deck) is to outline the topics that you want to talk about. Once you have that outline established, scroll through your presentation deck looking for the types of slides that would most likely compliment the topics you plan to cover. Don't hesitate to select two or three possible options – you can always narrow them down to one slide as you finalize the content of your presentation. Assemble a new presentation file that uses copies of your slide selections – in most software it's as easy as using copy and paste from your presentation deck into a new presentation file. Continue working on your presentation, using your new presentation file as a guideline. You may find that you are able to more quickly flesh out the contents of your presentation, because you aren't distracted by trying to design each slide at the same time!
Wrap Up
Preparing a presentation deck can seem like an overwhelming task at first. But, as is the case with all marketing, time spent in preparation is time saved in execution. Preparing a deck can not only help cut down the time, effort and stress that come with putting together a presentation, but it can also help save time on future marketing efforts, like your trade show display or printed marketing collateral. Every presentation you give is a window into who your company is – make sure you're portraying yourself professionally, consistently, and on brand.
Photo courtesy of flickr user Mike Deerkoski.